Finding a Student's Acellus ID & Password
When you have signed up for Power homeschool your student will be given and Acellus ID and password. You will receive an enrollment confirmation via email when you first subscribe. If your student forgets this information you can find it on your parent account.
Click on "Edit Student Account". This is located in the top-right hand corner of the screen.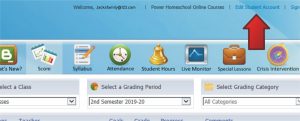 Here your student's original Acellus ID and password will be listed.