Changing Courses – Add/Drop Subject
Please Note: Depending on the program you selected for your student you will have the ability to change the course for your student.
Tutoring – 1 course – $10 charge for course change
Tutoring – 2 courses – $10 charge for course change
Power Homeschool – 6 courses – No charge for changing courses

To upgrade from the two tutoring programs a $10 charge will need to be made for your account. However, if you downgrade from the PHS – 6 course option a payment will not need to be made.
Select the edit button by your student's name.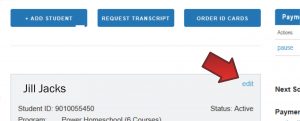 Once, you've selected the edit button by your students name you will be given drop down boxes for the following:
Subject – Browse different subjects
Grade – Select the grade for your student, this will bring up courses offered to that grade level in the course box.
Course – Courses appear in this box, based on the grade selected by the parent. Starred courses are courses that are recommended for the student based on their grade. However, the course selection is determined by the parent.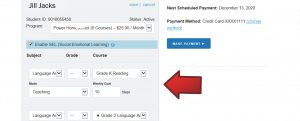 Tutoring Mode – Allows students to skip around to steps in a course that they may need to review. (Please see FAQ section for more information)
Teaching Mode – Courses are automatically set to homeschool mode as a default. (Please see FAQ section for more information)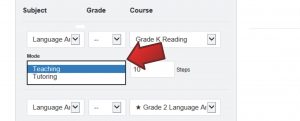 Weekly Goals – This is the number of steps set for the week (divided into a 5 day goal Mon-Fri.)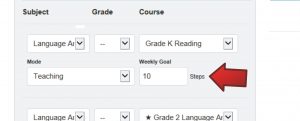 If needed, process a payment to switch courses/programs.
Select the save button at the top of the page. Once the changes are made the student will see the new courses added when they sign into their student account. If they are already logged into their student account, have the student log in and back out to see their new courses.