Changing Courses – Add/Drop Subject
Please Note: Depending on the program you selected for your student, there may be a nominal fee to adjust courses.
Power Tutoring – 1 course – $10 charge for course change
Power Homeschool – 7 courses – No charge for changing courses.
Select the edit button by your student's name.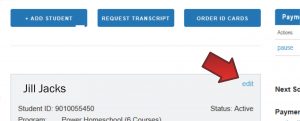 Once, you've selected the edit button by your student's name, you may select drop down boxes to adjust the following:
Subject – Browse different subjects
Grade – Select the grade for your student. This will bring up courses offered for that grade level, which will appear under the course drop-down box. (We recommend leaving this field blank when adding electives.)
Course – Courses appear in this box based on the grade selected. Sometimes, multiple courses are available for the same grade level and subject. Under most circumstances, we recommend you select the starred course which is our recommendation for that grade level/subject.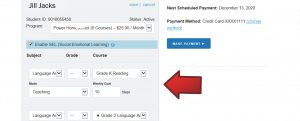 Tutoring Mode – Allows students to skip around in a course. This mode is recommended for students that are using Power Homeschool as a supplement for tutoring purposes. (Please see FAQ section for more information.)
Teaching Mode (Recommended) – Courses are automatically set to teaching mode as a default. In Teaching Mode, students must complete each lesson in the recommended sequence. This mode is recommended if the student is using the course as their primary means of instruction. (Please see FAQ section for more information.)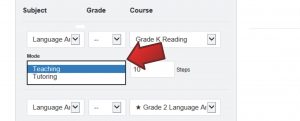 Weekly Goals – This is the number of steps set for the week (divided into a 5 day goal Mon-Fri.)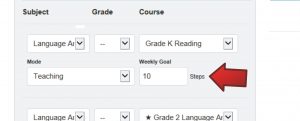 Select the save button at the top of the page. Once the changes are made, the student will be able to see the new courses added when they sign into their student account. If the student is already logged into their account, have the student sign out and log in again to see the new courses.