Setting Teaching Mode/Tutoring Mode
We allow parents to switch between "Teaching Mode" and "Tutor Mode" for each course.  Changing to "Tutor Mode" will allow your student to view all of the steps within the course and jump to any step.
The "mode" for a course can be set from the parent account.
Log into your parent account. Select the "manage account" button.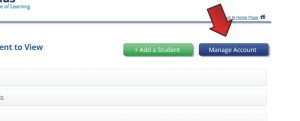 Select the edit button by your student's name.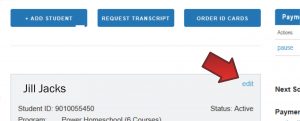 Tutoring Mode – Allows students to skip around in a course. This mode is recommended for students that are using Power Homeschool as a supplement for tutoring purposes. (Please see FAQ section for more information.)
Teaching Mode (Recommended) – Courses are automatically set to teaching mode as a default. In Teaching Mode, students must complete each lesson in the recommended sequence. This mode is recommended if the student is using the course as their primary means of instruction. (Please see FAQ section for more information.)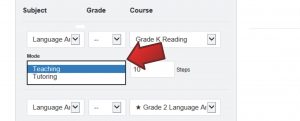 When working on a course in tutoring mode, the student will be able to jump to any step within the course. They will see different highlighted markers by each step.
Blue: Incomplete
Green: Completed
Yellow: Place Holder (The student was working most recently on this step.)
Red: Retake (The student scored low on this step; they will need to retake it.)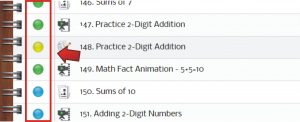 Helpful Tips:
Tutoring Mode is not recommended for parents that want their student to earn a completion certificate at the end of the course.